Inside the 'best of cellars'
In Liverpool, one such club would soon be known the world over as the birthplace of the greatest musical revolution in history - The Cavern. The club can nowadays be found in a former basement cellar at number 10 Mathew Street, Liverpool 2, which is situated just off Liverpoolís city centre, but during the 1950ís no shopper would ever have wandered down this narrow byway. It was then little more than two rows of seven-storey warehouses where, throughout the day, lorry loads of fruit and vegetables were off-loaded.
During the war the basement at 10 Mathew Street had been used as an air raid shelter and was later utilised to store wines and spirits. In 1956 the main building was in use as a storage area for electrical goods, but the downstairs cellar was vacant. . . .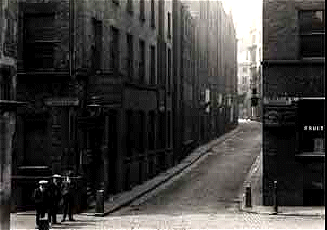 A rare picture of Mathew Street taken during the 1930s