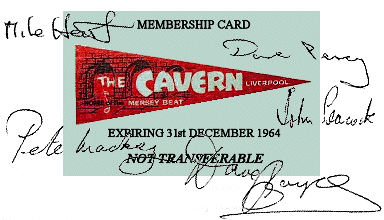 As far as much of the Sixties music world was concerned, the Liverpool music scene was 'Merseybeat' and The Beatles while London was R&B and The Rolling Stones..... yes, there were many more centres, groups and musical genres than that but, just for a moment, let's take Liverpool and R&B..... put them together
and what do you get? Many more fab groups which, although not represented by huge chart success, were incredibly popular locally and abroad and who were creating cutting edge music and a sound all of their own.

The cream of these was The Roadrunners, a group who featured regularly in Merseyside polls of favourite groups and who performed alongside The Rolling Stones, The Beatles in 'The Cavern Club' and also at the legendary 'Star Club' in Hamburg, Germany alongside many other Sixties legends such as The Tornados.



'Mersey Beat' magazine May 1964
' ...... from the groups I've heard only two are true R&B; in real Muddy Waters, Sonny Boy
Williamson, Howlin' Wolf style. They are the Roadrunners and the Mastersounds.
Anyone who has heard the Roadrunners will agree with me - they are the greatest group ever!'


If you are at all interested in the Sixties music scene, the Roadrunners' website
is an absolute must - not only to gain a better understanding and knowledge of
the group itself, other great but little-known local acts of the Sixties Merseyside
scene and to view some great images, but also to look through a window on the musical and social culture of the time. There are a lot of personal reminiscences and stories, including interviews with legendary Sixties personalities such as Cavern DJ Bob Wooler, who sadly died in 2002. Click on the title or the images
on the left (better copies appear on their site) to visit this musical goldmine.


Below, by kind permission of original group drummer David Boyce, are some entertaining and illuminating reminiscences and comments by him on the group, the scene and the greatest musical decade of all time.......