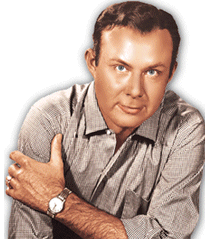 Jim Reeves was a Country singer with a rich mellow baritone voice. He was born James Travis Reeves in Galloway, Panola County, Texas on 20th August 1923. Jim, one of a family of nine children, originally had aspirations to become a baseball professional, but a broken ankle laid that dream to rest.
He became a disc jockey on country radio stations and it was while he was an announcer at KWKH Radio in Shreveport that his first opportunity to sing arose. When a guest didn't arrive for a performance on the 'Louisiana Hayride,' Reeves filled in and, as a result, was signed to Abbott Records where he had a million seller with 'Mexican Joe' in 1953. His second Gold Disc followed with 'Bimbo' in 1956.

RCA Records then acquired Abbot and provided Reeves with the backing of a major international label. What was particularly remarkable about the career of the singer who came to be known as 'Gentleman Jim', was his huge popularity internationally – and he was actually more popular, and his records more successful, in Britain than in America. He was also more popular in South Africa than Elvis Presley, recording several numbers in Afrikaans and starring in 'Kimberley Jim,' the most expensive South African movie made up to that time. 'I Love You Because' became popular throughout Europe in 1964, penned by blind songwriter Leon Payne, and features a harp, unheard of on a country record at that time.
His early big hit was 'He'll Have to Go', penned by Joe Allison, which became a Platinum Disc.