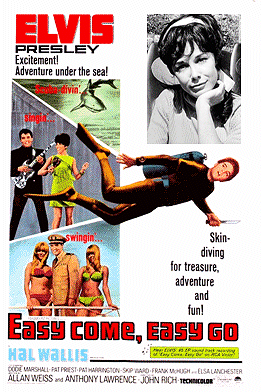 Wallis, it seems, was really tiring of the movie-Elvis he'd created and made comments about his star's weight, saying "the costumes get tighter and our hero looks fatter and fatter." He also commented on the Elvis hairstyle, saying, "If he comes up from underwater, takes his helmet off and discloses that perfectly combed pompadour the whole picture will be ridiculous."

This feeling was not confined to Wallis. Freddie Bienstock, who was responsible for producing the songs, said: "It was like a factory – there was no way to get better songs, we just went from one film to the next." In fact, Paramount didn't really want to release the film and only did so at Colonel Parker's insistence – and the movie didn't even cover its costs. It was to be the last film Elvis made for Paramount. When asked to comment on the film, Elvis said, "Same film, different location."

Written by Allan Weiss and Anthony Lawrence, the movie had several different working titles: 'Port of Call', 'A Girl In Every Port', 'Nice And Easy ' and 'Easy Does It.' The cast included: Ted Jackson (Elvis Presley); Jo Symington (Dodie Marshall); Dina Bishop (Pat Priest); Judd Whitman (Pat Harrington Jr); Gil Carey (Skip Ward); Madame Neherina (Elsa Lanchester); Captain Jack (Frank McHugh). This was Elvis's 23rd film and it was released nationally in America on 22nd March 1967.

During his last day on active duty in the Navy, Lieutenant Ted Jackson has to disarm an underwater mine and while doing so he sees what he believes to be a sunken ship, the 'Port Of Call'. Jackson investigates and discovers a treasure chest which he believes is full of gold coins. He decides to investigate and asks Jo Symington, a go-go dancer and yoga student, who is the grand-daughter of the owner of the ship, if he could see the ship's manifest.